CodeLaunch VII: Bigger, Better, Bolder!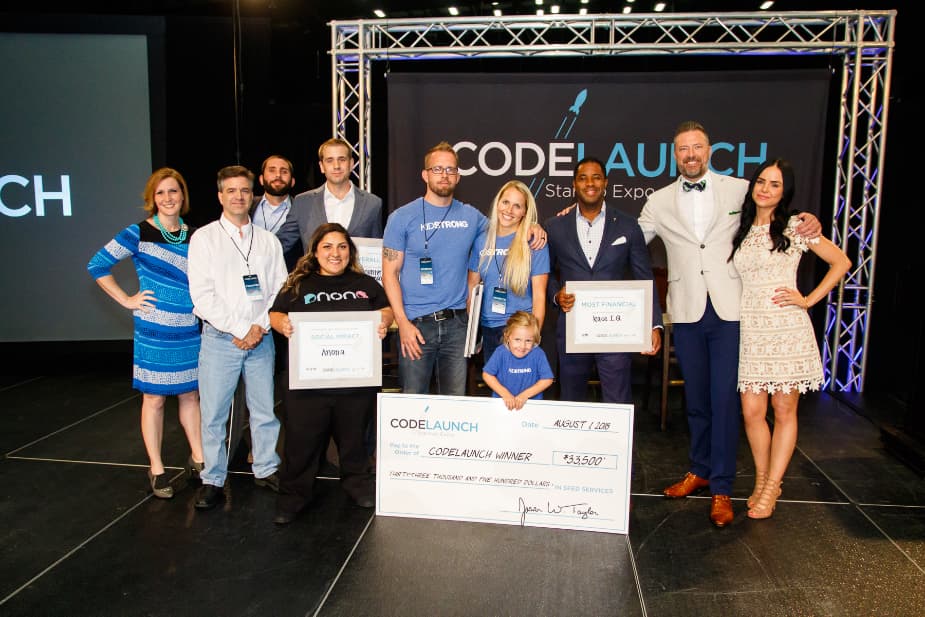 Seven is a magical number — days in a week, continents around the world, seas, dwarves, deadly sins, habits of highly effective people — and now, CodeLaunch events!
On Wednesday, July 31st, 2019, CodeLaunch VII will take place at the Comerica Center in Frisco, TX. It will become the most important day of at least one startup company's history. In addition to the entrepreneur competition, CodeLaunch features a Startup Expo trade show that could also be historic for other startups who meet up, network, and connect with interested supporters and investors.
As the event enters its magical seventh year, we'll take a look at CodeLaunch, its history, its winners, and the future.
What is CodeLaunch? A Startup Incubator Like No Other
Created by Code Authority's Jason W. Taylor in 2012, CodeLaunch is a software startup seed accelerator where ideas compete in order to earn seed services that will bring them one step closer to an MVP.
"We developed the CodeLaunch concept because we wanted to give deserving startups the tools they needed to get off the ground," says Taylor. "Sponsors provide the winners of each competition with mission-critical seed services so they can turn their ideas into reality."
Also important is that for these budding entrepreneurs, there's no cost or surrendered equity to participate in the competition. In addition, all ideas are protected under a non-disclosure agreement (NDA).
Some Super Success Stories
The previous winners at CodeLaunch are an impressive group of companies that have used their wins as jumping-off points to great things. Here are some of our previous event winners and what they have to say about CodeLaunch:
Kidstrong is an innovative child development program based on science and taught by professionals to help parents develop STRONGER, SMARTER, more ATHLETIC kids. "We're absolutely thrilled and honored to be named a CodeLaunch winner," said co-founder Matt Sharp. "We want to ensure we make the most of this incredible opportunity." Read the KidStrong Story.
Cortex created an app that provides supplemental therapy for individuals living with communication, cognition, and swallowing disorders (CCSDs). "We were so happy and excited to get to know the Code Authority team — we had a great experience with them, everyone was so wonderful to work with!" says Madison McClure, co-founder of Cortex. "A week ago, it was an idea. Now it's a tangible reality!" Read the Cortex story.
ProsRent ProsRent.com has revolutionized the way rental equipment in the construction industry is sourced online. Our Mission: Providing a one-stop shop for construction rental equipment, while providing a faster and easier solution. "Our overall experience was fantastic," says Nicholas Powell of ProsRent. "Even without becoming full partners with Code Authority, they gave us a leg up and pointed us in the right direction." Read the ProsRent story.
ParkUpFront is the must-have app for every car enthusiast and car club. Show off your garage, post and comment on the CRUISEFEED, and share events. Read the ParkUpFront story.
What's New for CodeLaunch VII
"It's our goal to make every CodeLaunch event better than the last one," says Taylor. "This year is no different!"
To that end, CodeLaunch VII will feature:
More winning finalists
New partners and sponsors
Even more robust seed services for the winners — working towards a goal of $100,000 value!
An all-day-long Startup Expo trade show for networking
Informative sessions and workshops
And even more to come...
Sponsorship Opportunities with CodeLaunch
Even if you don't win the CodeLaunch competition or chose not to compete, there are still opportunities to reap the benefits of the event.
CodeLaunch gladly accepts sponsorship opportunities.
Benefits of which include:
Preferred access to curated startups and attendee list
Brand exposure all year through related PR
Promote and grow your business with a table at the Startup Expo
Enhance your brand as a "community engaged thought leader"
Receive a backlink from CodeLaunch to help improve your SEO
How to Apply
CodeLaunch is now accepting applications! Visit the official CodeLaunch site and complete the application form.
For sponsorship opportunities, contact sales@codeauthority.com
For great reasons to apply, check out our blog on the subject.